Average American Ecological footprint
Mapping the American carbon footprint, down to the last zip code
September 23, 2016 – 02:54 am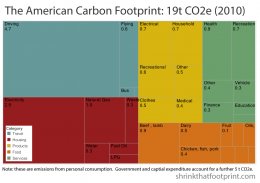 In the process of researching and writing our free eBook 'Emit This' I mapped out the average American's carbon footprint. The result was the tree map above which shows the typical spending of an American results in 19 t CO2e of greenhouse gas emissions, split into 5 categories. A further 5 t CO2e results from construction and government spending.
For someone who isn't trained in environmentally extended input-output analysis this is a decent calculation, but sometimes you've just got to hand it over to the professionals.
A new paper by carbon wonks extraordinaire Christopher Jones and Daniel M. Kammen has mapped the average Household Carbon Footprint (HCF) for every zip code in the contingent US. Yep, every zip code!
Suburbia Buries Urbanization Benefits
Time and again studies have shown that urbanization can deliver large carbon reductions by reducing per capita energy use in transport, housing and construction. But in this new study Jones and Kammen show that benefits of city living in big cities like New York, Chicago and San Francisco are cancelled out by higher emissions in their own suburbs.

In fact the study shows that household carbon footprint actually increases with population density until you reach 3, 000 person per square mile. This result is a stark contrast to many previous studies showing consistently negative correlation between density and emissions.
For those of us whose attention span won't extend to the full academic paper you can use the interactive maps below to focus on a city of choice. The first map shows the average HCF for each zipcode, and the next two help explain the most important drivers of variation, which are household energy use and transport demand.
You can zoom all the way in to any zip code and click on it to see how it stacks up.
Average Annual Household Carbon Footprint
This map displays average annual household carbon footprints for zip code tabulation areas* in the contiguous United States.
Household Energy Carbon Footprint
This map displays average annual household energy carbon footprints for zip code tabulation areas. Carbon intensity of electricity and heating fuel choice are big drivers of variation.
Source: shrinkthatfootprint.com
You might also like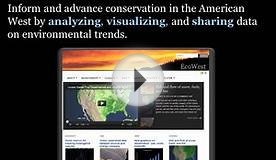 The human footprint in the American West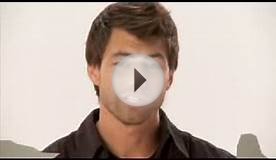 Ecological Footprint
Magnesium Oil with ALOE VERA (Makes it less itchy) - Big 12Oz - Highly purified 100% Tested - SEE RESULTS OR MONEY-BACK - Best for Sore Muscles, Leg Cramps, Restless Legs Syndrome, Headache & Migraine


Beauty (Seven Minerals)




NATURAL, 100% PURE & TESTED - our Magnesium Oil is one of the purest natural magnesium chloride available, mixed with Certified Organic Aloe Vera - Made in USA...
LESS ITCHY - Organic Aloe Vera makes it less itchy, soothes the skin, leaving it soft and supple with a healthy glow ★ MAGNESIUM OIL WORKS - it s considered to be...
IT WORKS OR YOUR MONEY BACK - Seven Minerals products work & they work extremely well - We guarantee you ll get results or you get 100% refund, no questions...
THE BEST WAY TO GET MAGNESIUM - you get 100% absorbable elemental magnesium delivered directly to your cellular level through your skin. Mined as a liquid in its...
Tags: migraine relief leg spray flakes mg lotion powder ice legs ultra syndrome bath wrap supplement transdermal gel tablets capsules pills cream calcium oz grade...
Popular Q&A
what is the average ecological footprint of a business organisation in the uk? | Yahoo Answers
i am testing out two ecological footprint calculators and i want to compare both results obtained for my organisation with the average to find out which one works best.
Related Posts