News Worldwide
Air pollution kills 3.3 million a year globally, but much of it traced to farms, study says
January 31, 2016 – 03:02 pm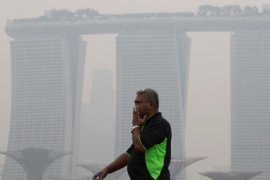 By SETH BORENSTEIN, AP Science Writer
WASHINGTON (AP) — Air pollution is killing 3.3 million people a year worldwide, according to a new study that includes this surprise: Farming plays a large role in smog and soot deaths in industrial nations.
Scientists in Germany, Cyprus, Saudi Arabia and Harvard University calculated the most detailed estimates yet of the toll of air pollution, looking at what caused it. The study also projects that if trends don't change, the yearly death total will double to about 6.6 billion a year by 2050.
The study, published Wednesday in the journal Nature, used health statistics and computer models. About three quarters of the deaths are from strokes and heart attacks, said lead author Jos Lelieveld at the Max Planck Institute for Chemistry in Germany.
The findings are similar to other less detailed pollution death estimates, outside experts said.
"About 6 percent of all global deaths each occur prematurely due to exposure to ambient air pollution. This number is higher than most experts would have expected, say, 10 years ago, " said Jason West, a University of North Carolina environmental sciences professor who wasn't part of the study but praised it.
Air pollution kills more than HIV and malaria combined, Lelieveld said.
With nearly 1.4 million deaths a year, China has the most air pollution fatalities, followed by India with 645, 000 and Pakistan with 110, 000.
The United States, with 54, 905 deaths in 2010 from soot and smog, ranks seventh highest for air pollution deaths. What's unusual is that the study says that agriculture caused 16, 221 of those deaths, second only to 16, 929 deaths blamed on power plants.
In the U.S. Northeast, all of Europe, Russia, Japan and South Korea, agriculture is the No. 1 cause of the soot and smog deaths, according to the study. Worldwide, agriculture is the No. 2 cause with 664, 100 deaths, behind the more than 1 million deaths from in-home heating and cooking done with wood and other biofuels in developing world.
The problem with farms is ammonia from fertilizer and animal waste, Lelieveld said. That ammonia then combines with sulfates from coal-fired power plants and nitrates from car exhaust to form the soot particles that are the big air pollution killers, he said. In London, for example, the pollution from traffic takes time to be converted into soot, and then it is mixed with ammonia and transported downwind to the next city, he said.
"We were very surprised, but in the end it makes sense, " Lelieveld said. He said the scientists had assumed that traffic and power plants would be the biggest cause of deadly soot and smog.
Agricultural emissions are becoming increasingly important but are not regulated, said Allen Robinson, an engineering professor at Carnegie Mellon University, who wasn't part of the study but praised it.
Ammonia air pollution from farms can be reduced "at relatively low costs, " Robinson said. "Maybe this will help bring more attention to the issue."
In the central United States, the main cause of soot and smog premature deaths is power plants; in much of the West, it's traffic emissions.
Jason West and other outside scientists did dispute the study's projections that deaths would double by 2050. That's based on no change in air pollution. West and others said it's likely that some places, such as China, will dramatically cut their air pollution by 2050.
Weather Live Free - Detailed Forecasts and Atmospheric Conditions (Local and Worldwide)


Mobile Application (Apalon)




Weather forecasts for several locations
Live weather scenes reflecting real-time weather conditions
Local time in 12 or 24-hour format
Adjustable weather widgets: short-term forecast, long-term forecast, text only
7-day and 24-hour weather forecast
Feels Like temperature, today s Max and Min
Wind direction and speed, visibility details, humidity and precipitation information
Pressure in inches, mm or mbar
Fahrenheit/Celsius and Miles/Kilometers
Easy navigation between cities: swipe either to the left or to the right to switch between locations
Digital Worldwide Radio Alarm Clock AM/FM Shortwave Bands Emergency Kit


Receiver or Amplifier (JOBAR INTERNATIONAL)




Digital Worldwide Radio
Broadcasts AM/FM and 7 shortwave bands with clear reception.
Includes bonus alarm clock feature.
A vital addition to emergency kits.
Uses 2 AA batteries; not included. 5 x 3 x 1.25 .
Worldwide Channel 4 News Team Xxx-large Polo Tees Soft Material Made Red Slim Fit Polo Shirt


Sports (GabriHuff)




Color style:solid
Style:england style
Pattern type:solid
Various size
Soft elastic decent slim fit

Wellsiha iPhone 5/5S case GlobolNevs Financial Times Launches Worldwide Marketing Campaign Global Canadian News Television Series iPhone case


Wireless (Waxnya)




Protect your phone with this stylish premium high quality case.
Gives complete access to all functions of the phone.
Wonderful protection yet sleek and comfortable feel.
Image designed to give your phone a unique style.
Keep your phone away from scratches bumps and dust.

Worldwide Soccer Manager 2008 - PC/Mac


Video Games (Sega of America, Inc.)




Fully updated for the new season with over 5, playable teams from over 50 countries,
International team management has been completely revamped, with new media improvements, international retirements, player interaction, international scouting, improved...
Match flow brings more atmosphere to match-days with match previews, team talks, opposition player instructions, the match itself, half-time and post match.
Financial information for today's soccer business is available to review and control, including corporate match day income, season ticket news, and more.
Arrange special events such as fan days to boost ailing match attendances at games that are likely to attract a low crowd.
Related Posts